Three Reasons Why Clients Switch To Cellbunq
Throughout the past year, we have received a significant number of inquiries from potential clients who have expressed interest in learning more about Cellbunq and the services we offer. As we have interacted with these individuals, we have gained valuable insight into the challenges that businesses face when attempting to ensure proper verification protocols. It is clear that with the increasing importance of security and verification in today's business environment, more and more companies are turning towards reliable partners like Cellbunq to provide them with the necessary tools and support. In this post we have compiled the three main reasons why clients switch over to Cellbunq, enjoy!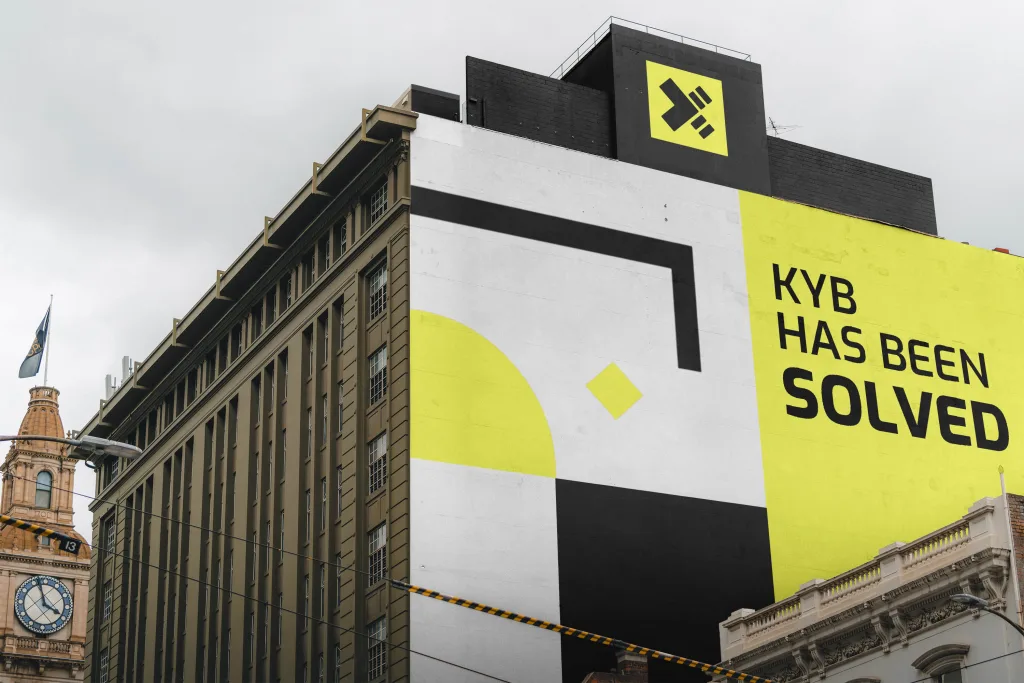 #1 Streamlined Automated Onboarding Process
A lot of clients that have switched over to us has either been manual or semi-manual when it comes to their onboarding. A lot of the painpoints that we have heard is revolving around the fact that it takes them "too long to onboard". 
Traditionally a standard onboarding process may look slightly similar to the below list whereby clients need to manually submit information by email or some sort of platform:
Financial statements
6-months bank statements
proof of domain ownership
CV of owners
Ownership graph
Signed agreement and more
The list just goes longer and longer and as you can probably imagine, the requested information is hard to collect which ultimately causes the client to miss sending part of the information or simply get too frustrated that they skip the onboarding.
Cellbunq revolutionizes this process. Our clients rave about the efficiency we bring to the table, reducing onboarding time by a staggering 200%. How? By leveraging multiple data sources, we gather, analyze, and present essential information in a concise and comprehensible manner.
How we have managed to build something like this is purely through multiple sources that gather and makes sense of various types of data and then present it in a very easy-to-understand overview for our clients.
Say goodbye to the frustrations of missed documents or prolonged wait times. With Cellbunq, onboarding is a breeze.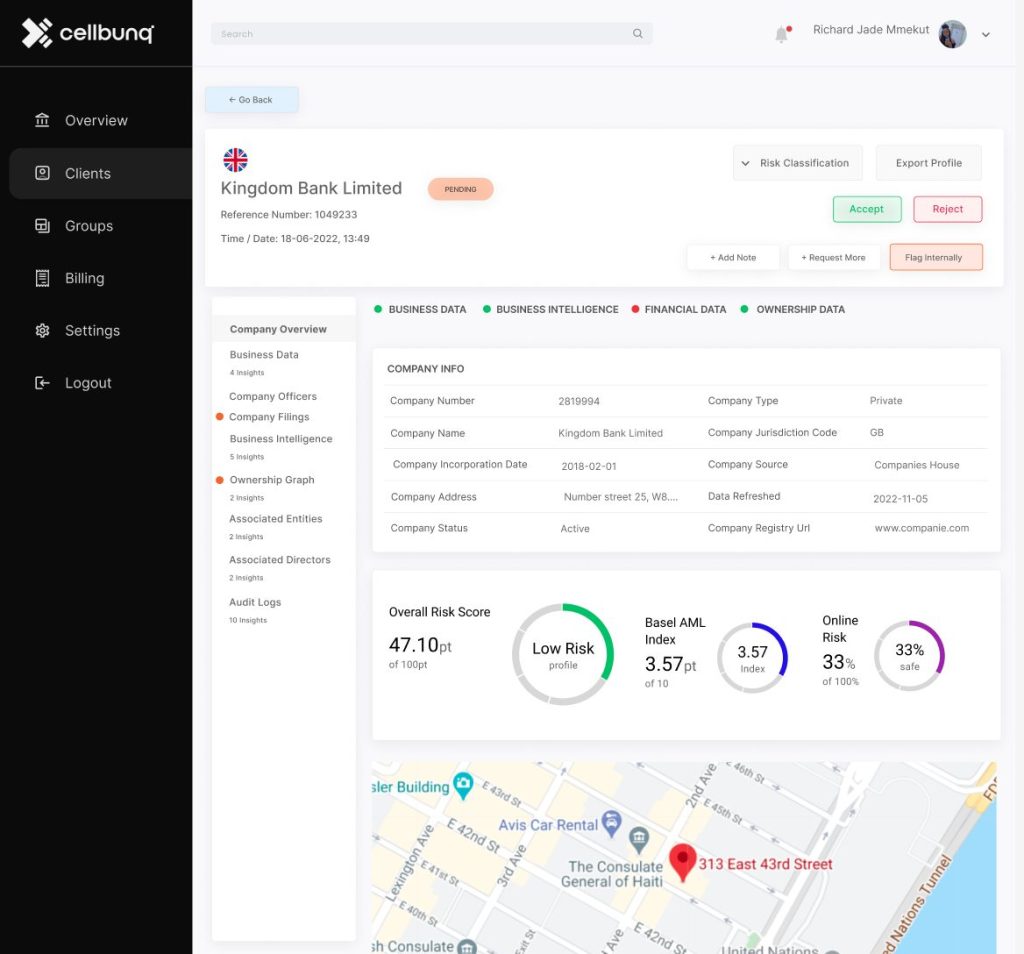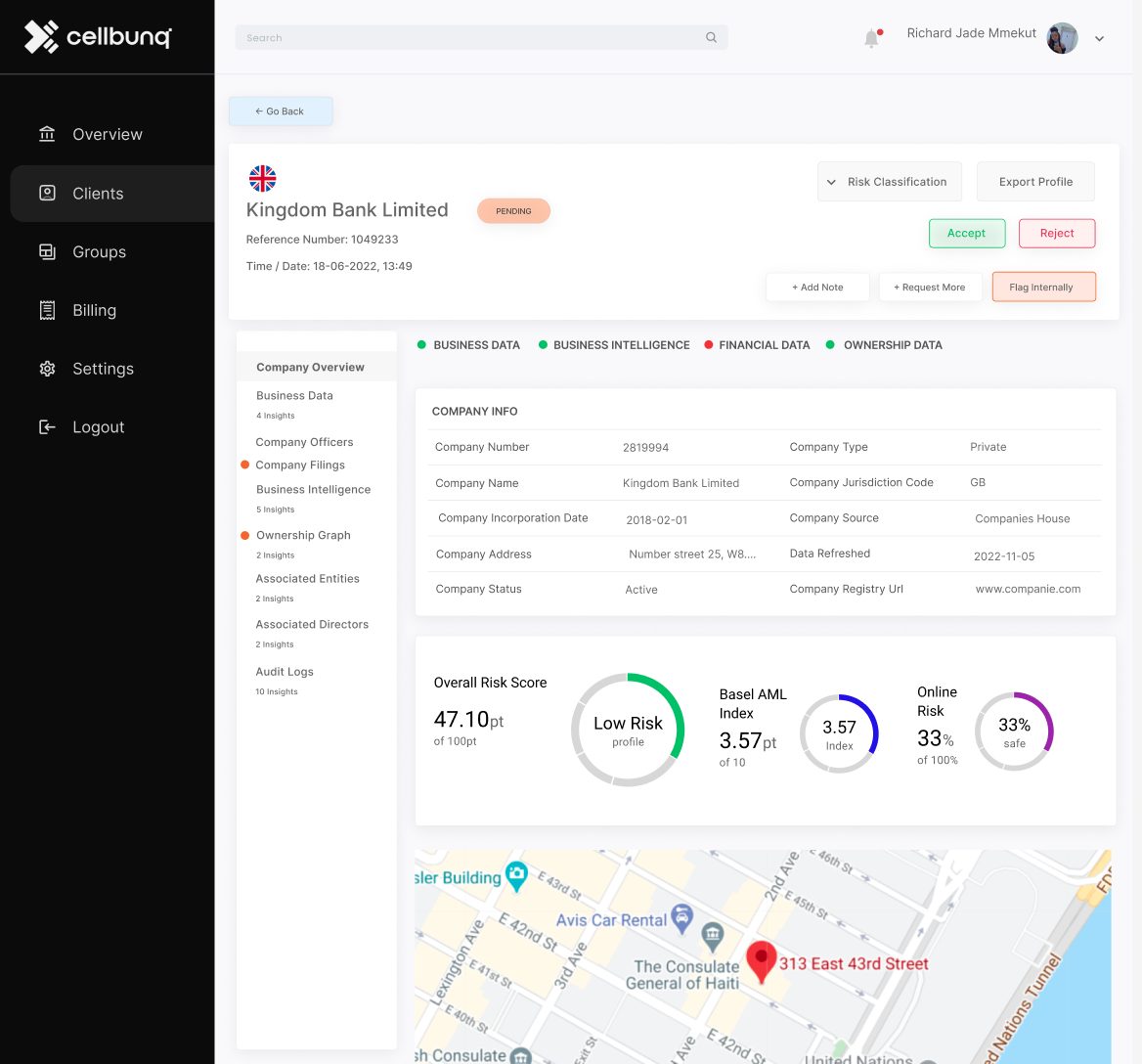 #2
All-in-One Centralized Platform
The second reason why clients have decided to switch over to us is due to the complexity of maintaining and managing multiple different systems.
A good example of this is that KYB is never just KYB, it also consists of KYC, AML and multiple additional products that have to work together in order to complete a business onboarding.
With Cellbunq our clients like the fact that we have all various types of products integrated within our platform, so regardless if it comes down to verifying the Ultimate Beneficial Owners (UBO's), requesting the client to sign an agreement (eSignature) or screening entities/individuals (AML Screening), we have all the products from one simple to use dashboard.
Clients have found out the case to be that they increase their productivity from managing everything through one centralised place as opposed to 5-10 different providers.
#3 Decisioning Made Effortless with Automation
One of the final reasons why clients switch over to Cellbunq is simply due to the fact that we make the life and the decisioning easier for anyone managing onboardings within the companies.
Typically for global clients they need to abide by various regulations and whenever a customer goes through an onboarding it involves decisioning from multiple people.
With Cellbunq we can automate as much as the client wants of the onboarding process, some clients prefer it to be 100% automated and some clients prefer it to be 80% automated. The value that we bring is that how we present the information to them makes it easy for anyone to understand about the client and their associated risks through our insights that we present.
Clients have found that they spend up to 80% less time dealing with complex onboardings since switching to Cellbunq due to the simplicity and the various features to help make their decisioning easier. One of these features is our proprietary Graph function that draws up a graph of any associated owner, director, or company officer.
In Conclusion
While the reasons highlighted above are compelling, they're just the tip of the iceberg. Cellbunq offers a plethora of benefits tailored to address the unique challenges businesses face. If you're keen to explore how Cellbunq can transform your operations, we're just a call away. Let us help you navigate your pain points and usher in a new era of efficiency.
Dive into the Future of Onboarding!
Start your free journey with Cellbunq today.
---
---